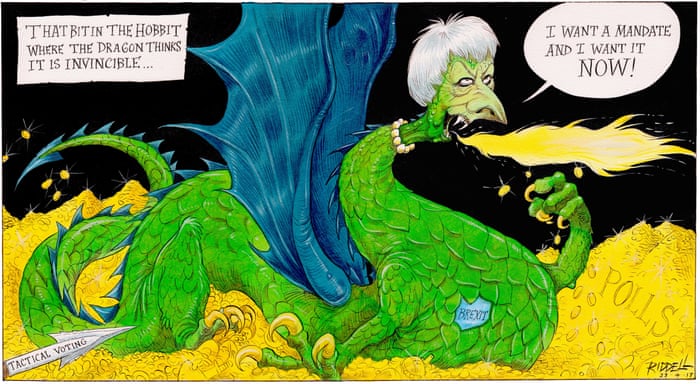 The 8th of June may not yield the results many of us, among them Theresa May, may be expecting. There is a danger that the PM's audacious move to consolidate her majority, cloaked in the language of legitimacy and unity, could be a political misjudgment. Other questions must be raised too: is this to be an election centred on who can navigate Britain best through Brexit negotiations, or will it pose larger socio-economic questions, creating a platform for opposition parties to creep into an unexpected victory. One thing's for sure; Theresa May thinks this is an election about Brexit, and has to date neglected forming substantial secondary campaign promises.
The Conservative Party seem hell-bent to make this an election about Brexit negotiations, and May's party are selling themselves on offering a firm withdrawal from the EU. Recent developments have suggested the divorce bill may total 100 billion Euros. This makes the Tories' stance problematic, as the cost of leaving may be hefty, and unpopular among their voters. Relations have appeared even more strained this week as reports of soured relations with Jean-Claude Junker, and May revealing an uncompromising stance, promising to be a 'bloody difficult' negotiator, many might be worried that the PM is heading towards negotiating our departure, with an attitude of denouncing, rather than conciliating. This is a real danger for the Tories, who are effectively selling themselves on the Brexit strategy. Although Britain voted to leave the EU, many may feel the Prime Minister's attitude will not get us the best deal. It seems as if a usurper can rise in this climate and affirm their place as Britain's next leader if they can advertise themselves as an alternative voice in Brussels, perhaps offering a less rigid position than the Tories.
Unfortunately that voice is not forthwith coming. Labour have not issued a unanimous voice on Brexit, with its lower-party members still urging a second referendum, including Emma Burnell who claimed the John McDonnel's answer for an "ambitious Brexit Britain" does not represent her party. Talks of party alliances, and recent televised errors of Diane Abbot, who claimed 10,000 new policemen would cost £300,000 (£30 each!) has done nothing to help Labour's campaign. Labour need to offer a constructive leaving position, along McDonnel's lines if they are to compete with the Conservatives on that front. The other aspects of their campaign are reasonably sound. Unlike their opponents, finding other hooks to lure in voters have taken equal precedence. Promises to increase NHS staff pay, and other public sector spending suggest larger socio-economic issues are going to be important in this election. This certainly outshines the Conservatives who seemingly have neglected this side of the campaign; it seems as though they believe controversial topics of VAT increases and spending cuts will be subsumed by their Brexit policy. In this respect Labour may edge it even. There is a possibility that this election will not be decided by Brexit, and if Labour can combine a convincing Brexit strategy with meaningful social policy, they could steal Mrs May's show from under her complacent nose. This could also be an area other minority parties could gain ground.
The Lib Dems seem in a worse starting position than the rest. Mr Farron has been in the limelight for all the wrong reasons, being questioned over his stance on gay sex. This seems particularly unjustified considering he voted in favour of gay marriage. Furthermore, should we question all candidates on their stance on topics because of their religion? Unfortunately, despite him affirming his support for gay sex, he has still been criticised, and associated with the topic as if he said it was a sin… His pledge to hold another referendum seems to fly in the face of all logic and democratic procedure, and polls even suggest a slight rise in Brexiteers, not the opposite. Therefore, the Lib Dems should perhaps learn more from Jeremy Corbyn's party.
This election is not a foregone conclusion. Labour can upset the odds, and seize victory from the Tories who appear complacent, and devoid of any meaningful social policy. If Labour can introduce social policy to this election, they can outshine their competitors, and id they add to this a meaningful and progressive Brexit plan, they could indeed win. This does not have to be an election about Brexit, and Theresa May could in fact be losing favour over her Brexit position, appearing unpopular in Brussels and uncompromising. If other parties can exploit this perceived weakness then May's position may be in jeopardy. There is a fine line between getting bogged down in socio-economic policy and ignoring Brexit, and focusing on it enough to put the Tories to shame, and Labour are to find this balance if they are to crash the party on June 8th.